The outside of the chimney has no protection from the weather, especially New England weather. Rain, snow, and changes in temperature can all have harmful effects on the chimney if not properly waterproofed. Your entire home can be affected by water damage. Water damage can decompose the mortar and other essential components of the chimney. Homeowners usually notice water damage after it has become severe. Major costs in chimney repairs can be avoided if you get your chimney inspected annually.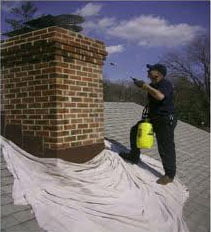 The bricks and mortar of your chimney are at risk because there no is protection for the chimney from the weather. Deterioration, cracks in the mortar joints, and loose bricks can all be signs of water getting into your chimney. Proper protection of these areas can prevent water damage from getting worse. The lifespan of your chimney greatly decreases if not properly protected from water damage. It is better to pay the inexpensive price of getting your chimney waterproofed than to pay the expensive water damage repairs in the future. Stay proactive with your chimney's condition and you'll save money in the long run. If your chimney is leaning, there is a good chance that is also has water damage. When it is windy and raining outside, the rain hits the chimney in a sideways motion, helping the water penetrate the small fissures and cracks in the brick material. A chimney can also start to lean if there is deterioration of mortar and brick on one side. This is because the brick material is unable to hold the material's weight above it. Bricks can start to fall off the chimney due to mortar failure. Stability is important when it comes to using your chimney safely.
We use the best waterproofing products on the market.
Chimney Saver water repellent lets moisture out but will not let it back in! The other product we use is CrownSaver. Water is unable to penetrate the chimney crown when we use CrownSaver. Non-vapor permeable products should never be used. They keep water from escaping. The mortar and bricks can decompose faster if water is trapped. Our techs are trained and certified to inspect, identify, and repair your chimney.
* ChimneySaver Water Repellent comes with a 10 year limited warranty against water penetrating through the chimney and brickwork! And the CrownSaver comes with a 10 year warranty against cracks or breaks to the top crown of the chimney! Call us today!