All of our Chimney Caps have a limited lifetime warranty against corrosion and workmanship defects. You will notice that there are several different styles of chimney caps and the one chosen might be determined by the type of flue you have in your fireplace; square, round or rectangle. Replacing or repairing chimney caps is a must for chimney cap leaks or other damage as moisture is one of your fireplaces enemies.
Many of our chimney caps come in stainless and copper. You can also order in a satin black or dark brown and get them powder coated to the color of your choice.
If you need assistance in choosing the right one for your chimney, please give us a call. We are more than happy to help you. Once you choose the chimney cap you like, let us know and we can get the order placed ASAP.
Round Clamp Chimney Caps have a single easy clamp fastening system and are available in custom sizes. They are designed to fit round terra cotta flue tiles or metal liners.
Top Mount Chimney Caps, also known as Multi- Flue Chimney Caps are available in stainless or copper and come in 4 different screen heights, 2 lid styles and 2 lid sizes. Both the stainless and copper top mount chimney caps offer exceptional features and the adjustable mounting flanges greatly enhance the ability to level the chimney cap while the removable lids allow for easy maintenance.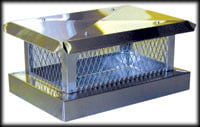 With all of the custom products, you will need to specify the mounting bases or outside mount (base wraps around the outside of the chimney top), the top mount (adjustable flange mounts to the top of the chimney crown) or clamp (made to attach directly to the flue liner). There are numerous lid choices available to fit just about any type of décor or need.
Custom Outside Mount Chimney Caps provide maximum protection for your chimney from rain, wind and other elements that could let water inside your chimney. There are multiple lid and metal choices are available to compliment your home and design style. Custom Outside Mount Chimney Caps also give you the capacity to hide ugly brickwork or poorly constructed crowns
All of our custom chimney caps are American Made.
With Custom Top Mount Chimney Caps you have the opportunity to cover the entire chimney or just the flues. There are removable lids that are available with 3/4″ or 5/8″ screen mesh. You specify the lid overhang. Corner reinforcements are also available. We can help you measure to accommodate for the mounting flange before ordering this item.
Custom Pot Toppers features include a 3″ lid overhang and 7″ screen height and offer an attractive way to protect chimneys with chimney   pots from rain and debris. These Custom Pot Toppers are available with 3/4″ or 5/8″ screen mesh. They are hand made and can vary in size.
WeatherShield ® Chimney Caps can be either air-cooled or non air cooled caps that protects your chimneys from infiltration of rain, snow,   debris and animals.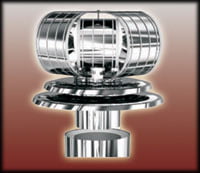 Vacu-Stack ® Chimney Caps can be either air-cooled or non air cooled caps that protects your chimneys from wind induced down drafts   and solves common wind-related draft problems
Damper Repair and Assemblies
The Sealtight Damper attaches to the top of the flue and provides a tight gasket fit to seal out weather, insects, birds, and other animals as well. They are often used as a replacement for non-functioning, rusted, or leaky throat dampers.
A Sealtight Damper is well constructed and engineered damper that eliminates 90% of the winter heat and summer cooling loss that leaks past your current throat damper. It also eliminates downdrafts and keeps moisture and animals out of your chimney and home. Moisture in your chimney causes unwelcome odors and leads to deterioration of bricks and mortar. The Sealtight Damper works year round to protect your chimney. The silicone rubber gasket provides a solid , tight-sealing protection to the top of the flue.
Traditional throat dampers only give metal to metal contact and are notoriously leaky and expensive. The damper is operated by a 35′ cable dropped down the chimney with a handle mounted in the firebox. Just at tug on the handle will open or tightly close the damper.