Investing in an outdoor living space is a great way to improve your home's value and can be a great entertainment area. We offer some of the best products in outdoor BBQ grills, kitchens, and outdoor gas & wood fire pits. Working alongside professional landscapers ensures your outdoor living area turns into a wow factor!
Our mission is to continually satisfy your highest expectations for quality, service and integrity.
Do you want to transform the look and feel of your backyard into something comfortable and magical? Do you want to make your outdoor living space more practical and functional? Do you want to increase your home's resale value? A custom outdoor kitchen can do all three, especially when planned and built by our experienced and motivated team. South Shore Fireplace can help you create an impressive outdoor living space with a beautiful backyard kitchen & BBQ island.
Gas Fire Pit Inserts​
We offer a complete selection of CSA and UL certified gas fire pit inserts in assorted sizes and shapes in three CSA certified technologies: Match-Lit, Spark/Flame Sensing, and Remote Electronic Ignition. All gas fire pits include burner, pan and related electronics. Gas powered fire pits are growing in popularity, especially for people living in urban and suburban areas where wood burning is prohibited. These units are much easier to clean, due to not having to deal with soot and ash buildup after use. In addition, they emit a significant amount of heat that will be sure to keep you and your family warm on those cold nights.
Rings and Burners​
Are you looking to convert your wood fire pit? Nobody offers more selection or higher quality. Our outdoor Fire Rings and Burners for outdoor gas fire pits are available in a wide range of styles and sizes. In standard or high capacity flow, they have staggered burner ports for better flame patterns and greater visual presence, as well as a raised hub to reduce the risk of water in the valve or gas line.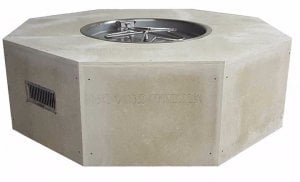 Ready-to-Finish Packages​
These gas fire pit enclosures are unfinished to allow for you to finish with stone, veneer, or stucco to match their surroundings. Shapes available in round, octagon, square, and linear. The housings take the guess work out of enclosure construction – especially with the difficult round and octagon shapes. These enclosures are constructed of sturdy 22 gauge galvanized steel material, welded frame, and a 1/2" Hardiboard shell.
Copper Fire Pits
Copper fire pits are best suited for those who want to spend the money on something that will last many years to come. They look great and often sport ornamental designs. Given that copper has a very high melting point, these fire pits can withstand countless burn cycles without ever rusting or corroding. Copper is one of the best types of metal for conducting heat, so staying warm will not be an issue. These luxuries do come at a price, however, as copper fire pits are often the most expensive. Our copper fire pits are fitted with a certified match-lit or electronic ignition fire pit insert. Our bowls offer a beautiful, oil rubbed hammered or smooth finish- with a unique, built-in access door on some models.
BBQ Grills
Grilling has long been a source of enjoyment for many people. When summer comes, there is nothing better than sitting outside on your deck or patio watching the burgers and hot dogs sizzle (or whatever you prefer to cook). We offer a variety of BBQ grill options to fit your cooking needs and lifestyle!
Our Team are Extremely Knowledgeable and Creative
Provide an Unprecedented Level of Customer Service
Free Consultation & Free Design On Approved Budget
We Create Spectacular Custom Outside Living Environments
Add Equity to Your Home
Custom Outdoor Environments
Outside Living Environments
We Build Designs and Design to Build